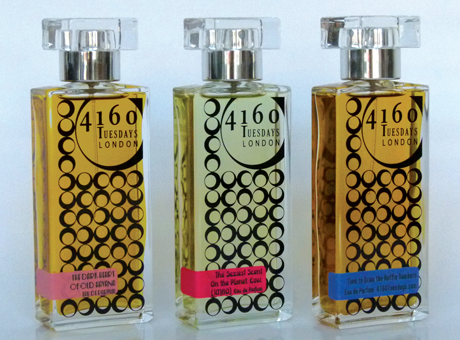 We are thrilled to be stocking 4160 Tuesdays handmade perfumes from West London. Their exclusive fragrances are inspired by a place or a person at a certain moment, and tell a story through their aroma. If you are searching for a perfume with character and style then 4160 Tuesdays created by perfumer, Sarah McCartney are for you.
With their scents like 'What I did on my Holidays', 'Doe in the Snow' and 'The Sexiest scent on the Planet. Ever (IMHO)'  being featured in The Perfume Bible, Vogue and Tatler we know that 4160 Tuesdays are a perfume house to watch.
Every perfume is handmade in batches of 50-200 bottles and lovingly wrapped making it a real treasure. Visit us at ID to pre-order your favourite 4160 Tuesdays perfume or come to our Christmas Shopping Event where we will be launching our top fragrances as chosen by you.